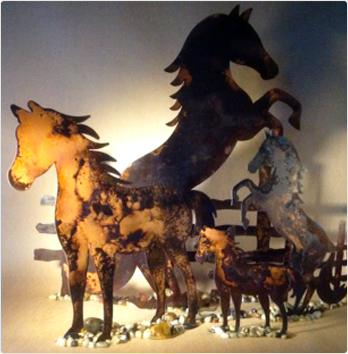 About Our Metal Stands
We use two types of metal, 1/8th inch aluminium and mild steel. Please read more to make sure you choose the right product for your project. Aluminium will not rust so it will stay this beautiful shiny silver, indoor or outside.
We use a very good quality aluminum plate and have had yard pieces outside in the elements for several years without tarnishing. It's soft so it will scratch if in contact with something sharp or abrasive, if this happens use a grinder with a 80 grit lap wheel to take any imperfections out.
Once the aluminium is ground its ready for paint, you can do this by hand, with a spray can or have it powder coated. If it is to used indoors then any good acrylic paint will do just be sure to clean the metal first with a degreaser so that there is a good bond. You can be quite creative with the paint adding detail, multiple colours or accents to make your piece your own.
If you are going to display your aluminium outside and do not like the ground look then we recommend an exterior paint, when spraying we use a hammered metal so that it is easier to touch up if need be. Again clean first with a degreaser. Ask at any building centre for products that will work best for you. If you are going to glue something to the metal that has some weight then we use an exterior flashing and gutter silicone. It takes longer to dry but it flexes and will stay bonded in heat, rain or cold. Clamp your project or weight it down overnight, you will be very pleased with the bond. This process works extremely well for glass art, just be sure to clean metal and glass and slightly rough up the area of glass where you are applying the silicone.